More than 200 electric scooters will be available to hire in Nottingham during a 12-month trial starting next week (Tuesday 27 October).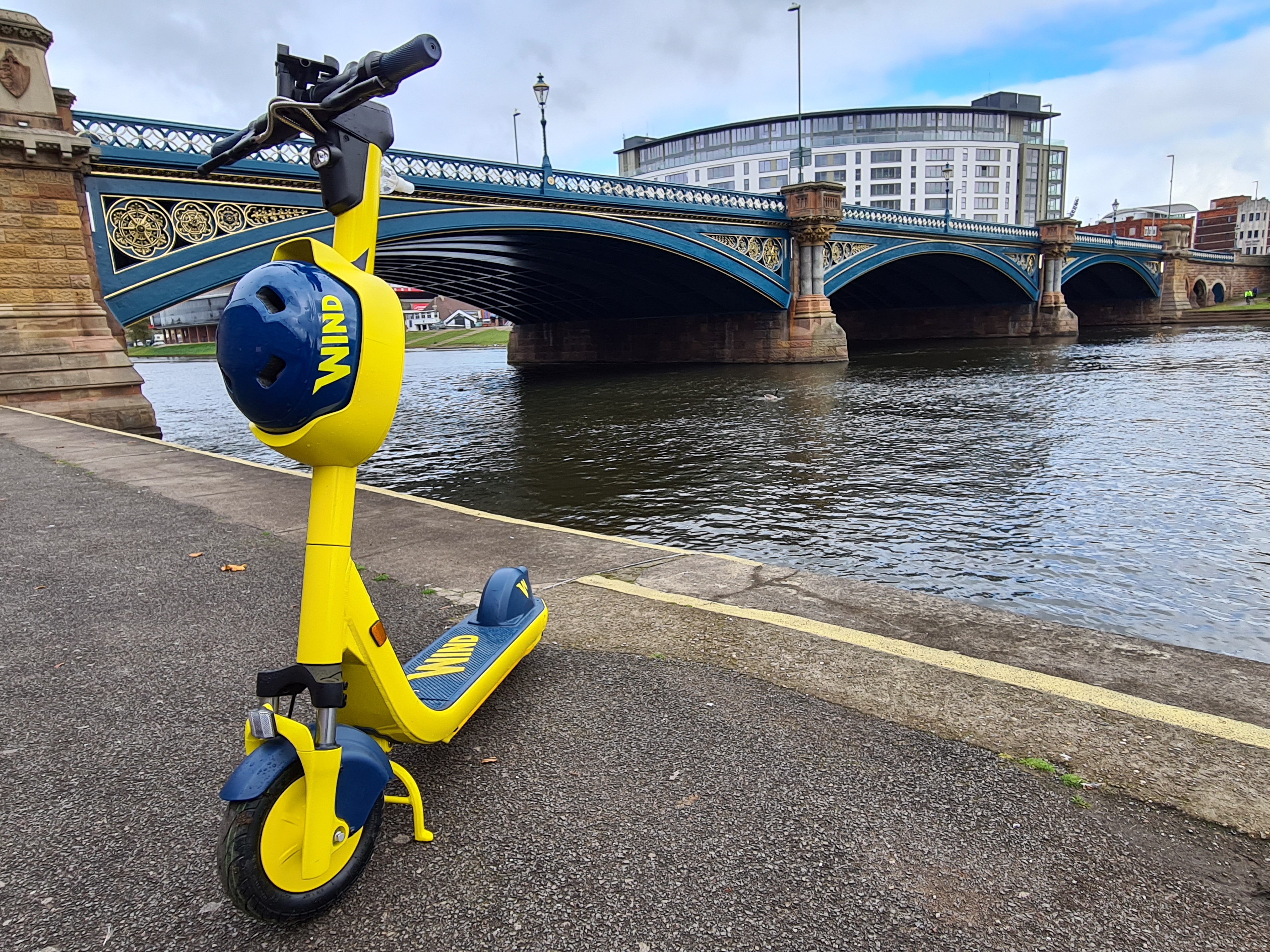 Wind Mobility has been chosen to operate schemes in both Nottingham and Derby, offering a fun new greener travel option to help take cars off our roads and improve air quality.
People living and working in Nottingham can hire an e-scooter for £30 a month up to a year.  On-street rental by the minute will be available to everyone and can be accessed using an app.
Key workers will be able to sign up for long-term rentals of the e-scooters at a discounted price, during which time they will be able to take the e-scooter home for exclusive use.
Councillor Adele Williams, Nottingham City Council's Portfolio Holder for Transport, said: "E-scooters will provide a greener travel option for people travelling in Nottingham. This has become especially important as we plan our recovery from covid-19 and try to encourage people to travel in different ways while social distancing is in place.
"E-scooters offer the potential for convenient, clean and affordable travel, and reduce journeys made by car to ease congestion and lower harmful emissions."
A number of e-scooters will also be available to try in Derby, with details of that scheme to be confirmed by Derby City Council in the near future.
Councillor Matthew Holmes, Deputy Leader and Cabinet Member for Regeneration, Planning and Transportation at Derby City Council, said: "I am happy that Derby has been selected to run this government trial which means that e-scooters are a new alternative choice for green travel in our city.
"There's no doubt that they offer a cheap and clean way to travel around Derby, improving not just the air quality in our city, but also the user's physical and mental health at a time when that is more important than ever.
"Obviously with any trial for a new mode of personal transport, I'm sure there will be some teething problems to work out and assess.
"Ensuring this is a safe mode of transport and one that is embraced by all is the priority. We have listened and will continue to listen to any concerns raised as the trial progresses, and feedback from the users themselves, cyclists, other road users and pedestrians is going to be vital.
"Whether electric scooters are embraced and become as common as bicycles across Derby will be interesting to see, as well as the behaviours of those using them and the interaction with other road users."
The safety of both participants and other road users has been a key consideration. Wind Mobility's e-scooters are highly visible, and the fleet is being fitted with integrated helmets. Hand sanitiser will also be provided on each scooter, and safety risks reviewed regularly throughout the trial.
The security, as an essential element of sustainable transport, has also been considered.
Boguslawa Motylska, Designing out Crime Officer for Nottinghamshire Police, said: "We worked closely with Nottingham City Council and Wind Mobility to mitigate any risks that this new infrastructure could potentially create for the communities we serve. We are ready to challenge inappropriate behaviour and address any public safety concerns raised by members of the public."
The e-scooters will be fitted with technology that means they won't operate outside Nottingham City Council boundaries. This also enables the council to create 'low speed' or 'no go' zones.
Eric Wang, CEO and co-founder of Wind Mobility, said: "Winning the tender to operate in Nottingham and Derby is a true honour.
"Wind brings wealth of experience to Nottingham and Derby. With over 40 city launches across Europe, Middle East and Asia, we have fine-tuned the recipe for a successful trial in the East Midlands. Safety, Stability and Sustainability are the three Ss that guide Wind's considerate and inclusive approach to working with cities. We want our service to benefit all members of the community, and help make cities even greater places to live, work and visit.
"User training and education are key to a successful trial, which is why we are conducting several public safety events per month where our teams demonstrate how to use the scooter correctly. Our dedicated local teams work around the clock to swiftly move in and reposition any wrongly parked scooters and will engage with the community to respond to its questions and concerns.
"We are proud to offer the most sustainable and reliable scooter, with the longest life cycle in the industry of three years and a battery capacity that is double the industry standard. It is our most stable and smoothest yet: it is more visible, larger, heavier, and equipped with a wider non-slip platform and highly performant bicycle-style hand brakes guaranteeing safer journeys for our users and all other street users. The double kickstand will ensure the scooter stands up right and will help keep streets obstacle-free."
As part of the response to Covid-19, the DfT has made changes that allow e-scooters to be used on public roads, using the same road space as cyclists. These changes only apply to DfT-approved schemes.
Transport Minister Rachel Maclean said: "The trials of rental e-scooters starting in Nottingham could offer cleaner, efficient and more affordable travel for local communities.
"Learning from trials already taking place, Nottingham's will see strict safety measures introduced – including licence verification and responsible parking incentives, while also helping us better understand any impacts on public spaces."
Anyone wanting to hire an e-scooter must be more than 16 years old and hold at least a provisional driving licence.
For more information, including how to take part and costs, visit www.transportnottingham.com/escooters

Safety measures
The safety of both participants and other road users has been a key consideration. We've learned lessons from pilot schemes elsewhere, and this trial has safety built in:
Wind Mobility has numerous safeguards in place, including 'geo-fencing', which will allow where e-scooters can be used, and will limit e-scooters to 4mph in pedestrianised areas in the city centre and Bulwell for the safety of riders and pedestrians. This technology also means the e-scooters won't operate outside Nottingham City Council boundaries and in other key locations, such as Old Market Square
Wind Mobility will provide individual or group training to users, and driver licence checks will include a two-stage verification process to minimise fraudulent sign ups
The e-scooters themselves have several safety features, not least the fact they are bright yellow with reflective elements, so can easily be seen. They also include a bell, lights and hands-free phone holder. Integrated helmets are being fitted across the fleet, with 200 free helmets available to long-term users
The e-scooters also have built-in hand sanitiser dispensers so users can clean the touch points before and after riding
Each e-scooter will be GPS tracked so, should any abuse be reported, Wind Mobility will be able to locate abandoned vehicles, and also determine the user in the event of an incident. Both Wind Mobility and the City Council have worked with the police and Community Protection to support enforcement
A 24-hour support line is in place to enable people to report issues
Wind Mobility will also be offering free maintenance checks to long-term users to ensure the vehicles are in good condition
Members of the public are encouraged to report any incidents with the location and time so the user/e-scooter can be identified.
Safety risks will be regularly reviewed throughout the trial.
Background information
Nottingham City Council was named one of the Government's Future Transport Zones in March to trial new transport options and will be making £100,000 funding available to Wind Mobility to support the trial.