The green light has been given to find a way forward to restore the ruins of Bulwell Hall Stables after funding was secured from two leading heritage organisations.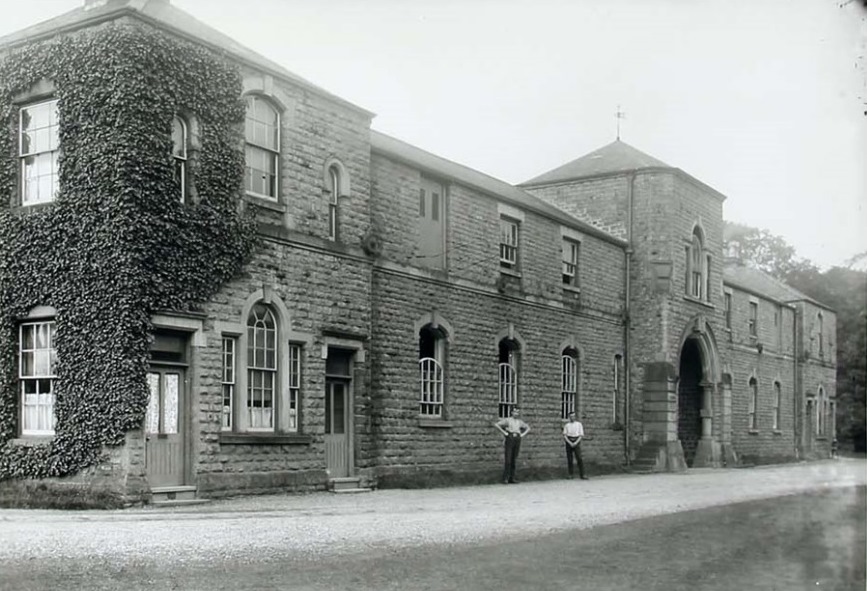 Image: Bulwell Hall Stables C 1910. Historic England Archives
Funding totalling £13,500 has been awarded – with £9,500 from The National Lottery Heritage Fund and £4,000 from the Architectural Heritage Fund. The funding will be used to decide the best way to repair the grade II Listed Building, and include a series of architect drawings.
The funding will also be used to test the possibility of setting up and running a Heritage Skills College on the site once repaired, helping to secure its ongoing use.
Most of the grand hall at Bulwell was demolished in 1958, with only the Grade II listed stable block remaining. This part of the site has been redundant and derelict for a number of years and has suffered a roof collapse and arson. Nottingham City Council, which owns the site, has been working on plans to restore the Stables in partnership with Bonsers Construction and Nottingham Historic Buildings Trust.
Image: Bulwell Hall Stables C 2018. Nottingham City Council
In 2018,the City Council sought expressions of interest from the market, to bring about a sustainable new use for the property. Bonsers Construction came forward with a suitable proposal, which can now be further explored in detail. The three partners have since been working together with support from Heritage Lincolnshire to apply for Heritage Funding.
Councillor Linda Woodings, Portfolio Holder for Planning, Housing and Heritage at the City Council said: "Nottingham is proud of its heritage and thanks to partnership working and Heritage Funding we are able to help preserve and bring back into use sites like this which otherwise might have been lost.
"Bulwell Hall Stables are an important part of Nottingham's heritage, which have had an uncertain future for a number of years. We are incredibly pleased that this partnership has been brought together to help find a future for the building while providing heritage skills and jobs for local people."
Anne Jenkins, Director, England: Midlands & East, The National Lottery Heritage Fund, said: "We're delighted that National Lottery support means Bulwell Hall Stables will get a new lease of life, and we can help to secure their future, whilst also providing training and employment opportunities for the local community"
Matthew Mckeague, CEO of The Architectural Heritage Fund, said "We're pleased to be supporting the feasibility work here at Bulwell Hall Stables, an important part of the city's heritage. The partnership approach to finding a sustainable use for the site is one that we very much support and we look forward to seeing further details on the proposed Heritage Skills College."
Following the feasibility works, it is hoped that a larger application will be made to heritage funders to find the estimated £3m to save the grade II Listed Building.
More about The National Lottery Heritage Fund
Using money raised by the National Lottery, we inspire, lead and resource the UK's heritage to create positive and lasting change for people and communities, now and in the future. www.heritagefund.org.uk.
Follow @HeritageFundUK on Twitter, Facebook and Instagram and use #NationalLotteryHeritageFund

About The Architectural Heritage Fund
The Architectural Heritage Fund help communities across the UK find enterprising new ways to revitalise the old buildings they love by providing advice, grants and loans, and our support acts as a catalyst for putting sustainable heritage at the heart of vibrant local economies.